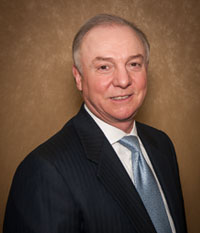 President, Wealth Preservation Solutions, LLC
(201) 632-2036
pmiller@wpsllc.net
As President of Wealth Preservation Solutions, Paul oversees the Estate and Business Succession Planning for the firm's clients. He often serves as an expert resource, authoring various articles on estate, business succession and exit planning. Paul is a frequent speaker at private industry and association conferences and has appeared as a guest financial commentator on CNBC.
In addition to his activities at the firm, Paul is on the Ramapo College Board of Governors and was a founding trustee of the Ramsey Public Education Foundation. He also represents the Daniell Family Foundation in identifying and supporting New York and New Jersey based charitable organizations.
Paul is a graduate of Boston College, an avid golfer, and a devoted family man.
Paul D Miller TV Appearance.
View video disclosure
The opinions expressed in this commentary are those of Paul Miller and may not necessarily reflect those held by NFP Advisor Services, LLC. This is for general information only and is not intended to provide specific investment advice or recommendations for any individual. It is suggested that you consult your financial professional, attorney, or tax advisor with regard to your individual situation. Comments concerning the past performance are not intended to be forward looking and should not be viewed as an indication of future results.
International investing presents certain risks not associated with investing solely in the United States. These include, for instance, risks related to fluctuations in the value of the U.S. dollar relative to the value of other currencies, the custody arrangements made for the fund's foreign holdings, political risks, differences in accounting procedures and the lesser degree of public information required to be provided by non-U.S. companies.
Using diversification and/or asset allocation as part of your investment strategy neither assures nor guarantees better performance and cannot protect against loss of principal due to changing market conditions.
Securities offered through Kestra Investment Services, LLC (Kestra IS), FINRA / SIPC. Investment Advisory Services offered through Kestra Advisory Services, LLC (Kestra AS), an affiliate of Kestra IS. Wealth Preservation Solutions, LLC is not affiliated with Kestra IS or Kestra AS. Neither Kestra IS nor Kestra AS provide legal or tax advice and are not Certified Public Accounting firms.