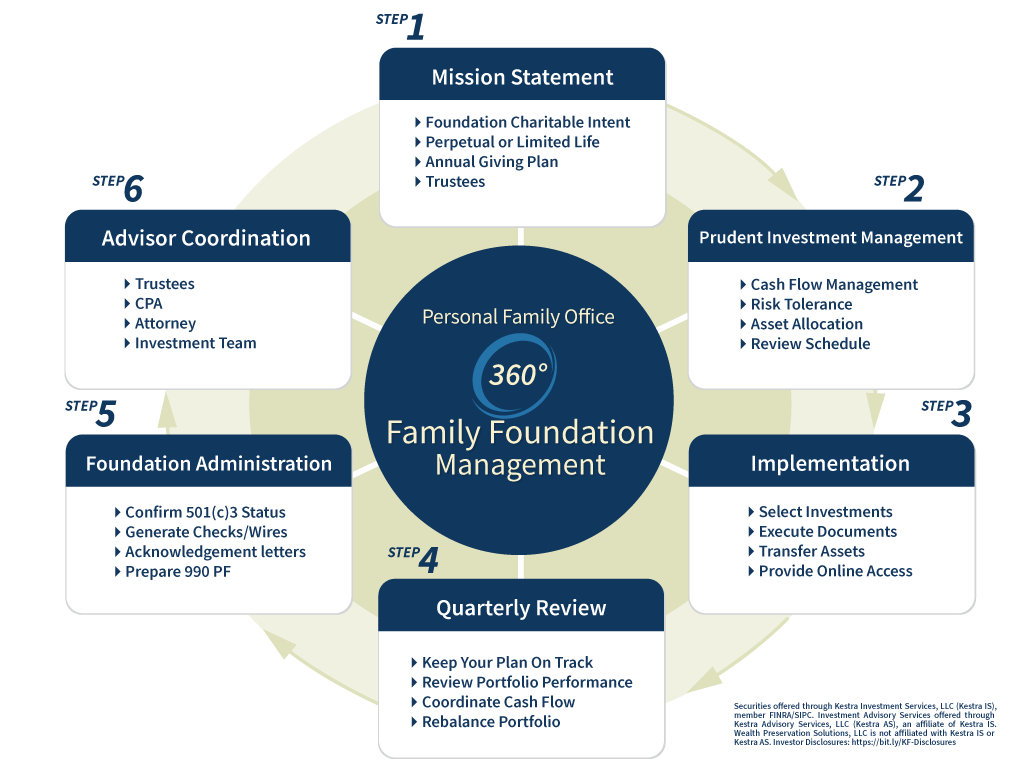 Corporate Charitable Giving – Reap Corporate Tax Benefits While Supporting Your Favorite Charities
The Donor Advised Fund – Give While You Live
360° Family Foundation Management
Wealth Preservation Solutions, LLC, specializes in providing 360° Wealth Management to Family Offices, Family-Owned Businesses, and Family Foundations. We provide day to day, turn-key foundation management and administration, so that the family can focus on expressing their charitable intent.
1

Create the Mission Statement

Most family foundations have a particular charitable intent and annual giving plan. We will help you craft a simple statement that clearly expresses your goals and objectives for your foundation.

2

Prudent Investment Management

Foundations are required to follow the "Prudent Person" rule. In other words, what would a prudent person do in these circumstances? While this rule does leave some room for interpretation, we understand that the assignment is to distribute 5% per year and also to grow the principal. We will develop a mutual understanding of the level of risk necessary to accomplish your goal, and create an Asset Allocation plan consistent with your risk tolerance and the prudent person rule.

Once the foundation is funded, we will invest using Dollar Cost Averaging. We will agree upon an investment timetable between three months and nine months. The basic plan will be to invest an equal amount each month over the agreed upon period. We may take advantage of special market conditions for stocks or bonds if they arise. This will be discussed and agreed upon BEFORE any action is taken.

We will assist you in developing a Cash Flow Plan, and it will be our job to make cash available according to that schedule. Our standard format is to meet and review the portfolio quarterly. This can be done by video conference or in person at our office in Paramus, or your office, at your convenience.

3

Implementation

If and when you decide to use our firm, we would immediately go to work to put everything into place. We will be in position to initiate the plan, as soon as you are ready to fund the foundation. This means that we will have created the Mission Statement, agreed upon the Investment Strategy, opened the accounts, and set up online access. It would be ideal, if possible, to have selected the charities to support, so that we can confirm their 501(c)(3) status and have the checkbook and/or wiring instructions in place. Once we have addressed all these steps, we can start implementing the plan.

4

Quarterly Review

Let's plan to meet quarterly to make sure that we keep your plan on track. During this review, we will, of course, review portfolio performance and agree upon any adjustment that may be required. We will also double-check the cash flow requirements, charity confirmation status, review all administrative procedures, and touch base with the advisor team for any open items.

5

Foundation Administration

Most families enjoy helping charities that are important to them. Very few enjoy the day to day administration. Our goal is to alleviate the day-to-day management for you. Once you tell us which groups you want to support, our team will vet them and confirm their 501(c)(3) status. We will also obtain the required Acknowledgement Letters. If you want, we can also handle all of the bookkeeping tasks, generate the checks and wires, and provide that information to the CPA. Finally, and most importantly, our team will prepare the IRS Form 990 PF each year.

6

Advisor Coordination

We have learned, over the years, that it is vital for all the parties involved in the management of the Family Foundation to work closely together and coordinate their activities in order to realize the charitable intent of the family. Otherwise, things have a way of falling between the cracks. We have spent 30 years perfecting our process of working effectively with the family, trustees, CPAs, Attorneys, and Investment team.

If our approach makes sense to you, please feel free to contact us to discuss the next steps.